Windows Small Business Server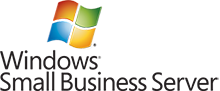 Microsoft Windows Small Business Server 2011
Designed and priced for small businesses, the Windows Small Business Server 2011 (Windows SBS 2011) solution suite offers agile, all-in-one, secure server solutions.
An integrated solution
Have virtually anytime, anywhere access to your business desktop, including email, files, business applications, and more
Share resources and equipment, including internet access, printers, and fax machines to get the most value from your technology investments
Enjoy compatibility and scalability. As and when your business needs change, easily add users, servers, and applications, or expand into other Microsoft technologies
Work more efficiently and add more value to your business with an integrated administrative console
Work confidently with a top performing network based on Windows Server 2008 technologies
Your business data protected
Use antivirus and anti-spam protection to help protect your information from malicious attacks, viruses, and spam
Keep your computers and servers current and your network healthy and up-to-date with the latest updates
Get better control over your business and business information with daily and weekly reports alerting you on the health and security of your technology. A single administrative console gives you or your IT consultant a daily view of PCs and servers and makes it easier to manage common IT tasks
Get an at-a-glance snapshot of the security and health of your PCs and servers from a 'green check' report
Grow your business capacity
Improve your day-to-day efficiency by using a central repository for storing and sharing information
Connect with customers, vendors, and suppliers easily and professionally, with access to contacts, appointments, and files from any Internet-connected computer or a Windows Mobile–powered smartphone, so you can be responsive even when you are away from the office
Create a bigger business presence with online marketing tools from Microsoft Office Live Services Small Business*, so you can differentiate your business and present a more professional image to your customers
Axiom IT For Your SBS 2011 Installation and Upgrade
Our experience is backed by our Microsoft Small Business Specialist Qualification (LOGO SOMEWHERE) and we have been implementing network infrastructure solutions for small businesses since 2008. We assist with integrating multiple vendor products that are specifically targeted to small businesses to deliver a full service for secure, accessible and high performance solutions.
Get Windows Small Business Server today!
Call Axiom IT on 1300 991 992