Generic or Brand Name PC – What should you buy?
Whether starting a new business or upgrading existing workstations, small business owners are faced with the choice of whether to purchase brand name or generic PCs. As a trusted advisor and managed service provider, we often get asked for guidance by our clients. In this post I'll cover the key differences, hopefully making that next purchasing decision easier for your business.
First, let's define the terms 'Generic PC' and 'Brand Name PC'.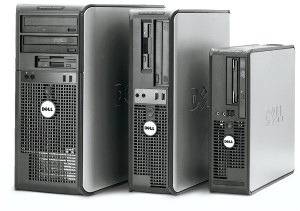 A Generic PC, also known as 'beige box', 'white box' or 'no name' are made up of components from a variety of manufacturers. Usually built by the local computer shop, these boxes have no branding on them.
Brand Name PCs are built by reputable manufacturers such as Dell, HP, IBM, or Acer and can be easily identified by the branding on the case.
What is the difference?
The most obvious difference between brand name and generic PCs is price. As you'd expect, a brand name PC costs more than its generic equivalent. The table below illustrates the difference in pricing.
Specs
Leading Brand Name PC
Typical Generic PC
Difference
Low end
Core i3 / 4gb RAM / 250gb HD

$650

$500

30%

Mid-range
Core i5 / 4gb / 500gb HD

$900

$700

28%

High end
Core i7 / 8gb RAM / 1TB HD

$1150

$900

28%
Brand name systems are approximately 30% more expensive, but why? The answer is simple:
Reliability
Warranty
Support
 Are brand name PCs really more reliable?
Brand name PCs are better designed and tested more thoroughly than generic PCs. The internal components are tested to ensure compatibility with one another. When components don't play nicely together it can result in strange behaviour which is often difficult to diagnose.
An analysis of crash data taken from over 1 million PCs by Microsoft shows that crashes due to CPU failure occurs in 1 in 120 brand name PCs versus 1 in 93 for generic. Memory failures are 3 times more likely to occur in generic PCs, with a failure rate of 1 in 950 for generic versus 1 in 2700 for brand name PCs. Conclusion? In simple terms, Generic PCs crash more often.
Superior warranty and support
It is inevitable that computers will eventually fail. Most make it through the first 3 years without a problem, after which, they are usually replaced. But some don't make it that far, and that's when the PC's warranty becomes important.
Generic PCs come with a 1 year back to base warranty. What does that mean exactly? If a component fails in the system, it needs to be taken back to the store it was purchased from. The store will run some tests to identify which component has failed and replace it with a new one, provided they have it in stock. If there's no stock, a replacement will be shipped from the manufacturer.  This can add up to days and weeks in some cases.
Contrast this to the next business day onsite hardware warranty offered by leading vendors such as HP & Dell. In the same situation, the vendor will send a technician to your office, diagnose and replace the faulty component(s) within one business day. The faulty system is back up and running and you've avoided a call out fee from your IT Support provider.
What should you buy for your business?
There are 3 things to consider when making this decision in your business:
Budget
Cost of downtime
Reliance on IT
Brand name PCs cost more because you are paying for a superior warranty, reliability and support when things go wrong. The real value of that depends on the individual business.
In an ideal world, every business would rely on Brand Name PCs to power their productivity. But the reality is many would rather save the money and that usually works out okay. However, in a business where downtime carries a significant cost the additional upfront cost will pay for itself should something go wrong.
If you'd like more information or assistance making this decision in your business, contact Axiom IT for a free, no obligation consultation below.
[biginfopane textcolor="#ffffff" title="Learn more about Office 365″ href="https://www.axiomit.com.au/contact/" button_title="Contact us"]Get in touch with Axiom IT and we will happily assist you with any queries relating to Office 365.[/biginfopane]
Oops! We could not locate your form.