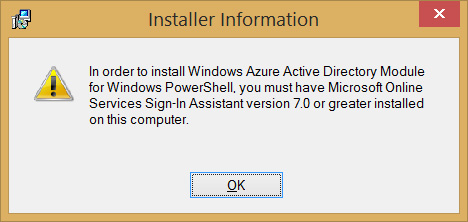 If you've already installed the Microsoft Online Services Sign-In Assistant (version 7.0 or higher) and come across this error you're not going crazy. For some strange reason the Windows Azure Active Directory Module installer doesn't recognise the version number correctly. Luckily there's a quick and easy fix.
Open regedit.exe
Find the key 

HKEY_LOCAL_MACHINE\SOFTWARE\Microsoft\MSOIdentityCRL

Change the value of MSOIDCRLVersion from 7.250.4303.0 to 7

.250.4551.0

You should now be able to install the Windows Azure Active Directory Module for Windows PowerShell.
After the installation is complete, change MSOIDCRLVersion back to 7.250.4303.0
Learn more about Office 365
Get in touch with Axiom IT and we will happily assist you with any queries relating to Office 365.
Newsletter
Subscribe to our newsletter for the latest news on the Cloud and Office 365 products.