Remove SMS entries from Samsung Galaxy S4 Call Log
One of the first things I noticed about my Samsung Galaxy S4 was the SMS entries in my call log. I prefer my call log to contain phone call entries only, and chances are that's why you're here. Luckily, there's a quick fix for the needless clutter, simply read on…

Solution 1 – "View by"
Chances are you've already tried this solution and realised shortly after that it's only a temporary fix. If that's what you're after, continue reading. Otherwise, see Solution 2 for a permanent fix.
Launch the Phone app. (Press the Phone icon, as you would to make a call)
Press the Menu button, and then select View by.
Next, select All calls and SMS entries will no longer appear in the list.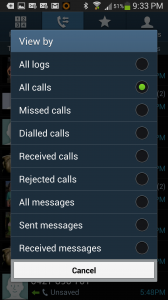 Remember, this is only a temporary fix. When you exit the phone app the setting reverts back to All logs, which includes SMS.
Solution 2 – Samsung Log Converter App
Installing the Samsung Log Converter will permanently remove all SMS entries from the call log.
On your Galaxy S4, install the Samsung Log Converter from Google Play store.
That's it! You're done!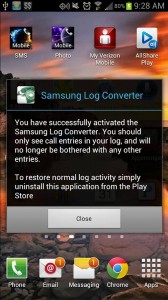 To show SMS entries in the call log again, simply uninstall the Samsung Log Converter App.
[biginfopane textcolor="#ffffff" title="Learn more about Office 365″ href="https://www.axiomit.com.au/contact/" button_title="Contact us"]Get in touch with Axiom IT and we will happily assist you with any queries relating to Office 365.[/biginfopane]
Oops! We could not locate your form.