Review: Samsung 530U Ultrabook – Performance on the run and great value for money
It's rare to see an IT Support Technician without a laptop in their bag these days, and I'm no exception. Until last week, my Dell XPS 16 was doing a wonderful job. But with all the buzz about Ultrabooks lately, I decided it was time to treat myself to a brand new Samsung 530U.

After a week of intense use, I thought i'd share my thoughts on it.
My main considerations when choosing this laptop were:
Price
Size & Weight
Performance
Display
Trackpad
When it comes to price, the 530U cannot be beaten. RRP is over $1,000AUD, but thanks to a special at JB Hi Fi, I was able to get mine for only $700. For an Ultrabook with an i5 processor, this is incredibly cheap. At this price you don't get an SSD HD, but you do get a secondary SSD drive which acts as a cache. This brings plenty of performance gain, without sacrificing storage space. Win win.
Carrying my laptop everywhere I go means that size and weight are critical factors. Weighing in at 1.39kg, I barely notice it on my lap or in my bag. I opted for the 14" version, which is a great compromise between 13" which is a little bit too small for my liking, and 15"4, which is far too big.
The performance of the 530U has exceeded my expectations. It takes a mere 17 seconds to boot to the windows logon screen. This is thanks to the ExpressCache technology which utilizes the SSD drive for performance gains. Logging on and preparing the desktop takes the 530U a further 10 seconds  which brings total boot time to under 30 seconds – pretty impressive I thought. Mind you, I've kept the installation pretty lean.
The screen is definitely the weakest point of this Ultrabook. The viewing angle is limited, which can cause things to look washed out. The resolution is 1366x768px which means no HD. It does the job, but if you're looking for a high quality display, consider an alternative.
The speakers are adequate, and that's really all l can say. For a business end laptop, this is quite acceptable.
From a usability perspective, I've saved the best until last. Those readers who have used an Elan Smart-Pad before, will need no explanation. For those who haven't – you don't know what you're missing! Elan Smart-Pads are the PC version of Apple's Multi-Touch Trackpad. It gives the trackpad a whole new set of features – two finger tapping, scrolling and zoom. Three finger and four finger swiping, and drag & drop. It's the kind of luxury you'll never want to be without.
Amazingly, the engineers at Samsung have found room for a DVD drive. In an Ultrabook that is less than an inch thick, which is impressive. My technical duties require the occasional use of a DVD drive and the convenience of not carrying an external USB drive is nice.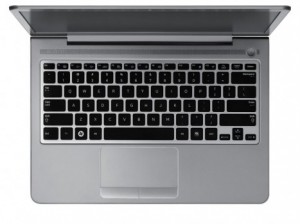 Specifications
Intel Core i5
4gb RAM
16gb SSD Cache Drive
500gb Hard Drive
2 x USB 3.0 Ports
1 x USB 2.0 Port
HDMI & VGA Output
Wireless N
Card Reader
Pros
Price
Great battery life
SSD Cache Drive
Light and thin
DVD Drive
Elan Smart-Pad
Cons
Display
Keyboard isn't backlit
To summarise, the Samsung 530U is great value for money, providing all the essentials plus a little more. It's ideal for the business person on the go, looking to complement their desktop computer. 
[biginfopane textcolor="#ffffff" title="Learn more about Office 365″ href="https://www.axiomit.com.au/contact/" button_title="Contact us"]Get in touch with Axiom IT and we will happily assist you with any queries relating to Office 365.[/biginfopane]
Oops! We could not locate your form.