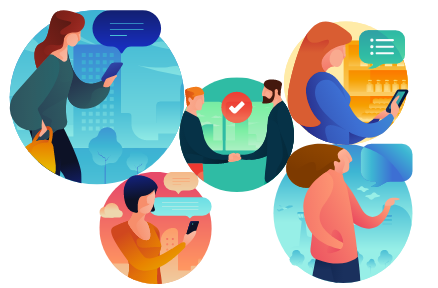 Microsoft Teams – Chat vs Channel
With many businesses adopting a highly digital, remote workplace in 2020, Microsoft Teams has become more important than ever in making this transition possible. Teams allows its users to seamlessly connect with each other by chatting, sharing files, and organising meetings.  
However, it can be difficult to discern when it's appropriate to use a group chat versus a Team channel. They both offer many of the same features mentioned above, so, when exactly is the right time to use one over the other? To solve this dilemma and help your Teams usage going forward, we're going to investigate the ins and outs of both chat and channel to find which one is best and when! 
GROUP CHAT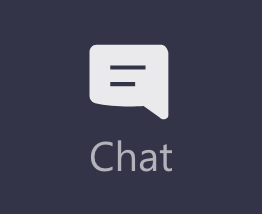 1. Privacy
Privacy is the most apparent distinction between chat and channel. When having a conversation in a group or one-on-one chat, the only people seeing said messages are the members of the chat itself. This is similar to many other messaging apps, including Facebook messenger and WhatsApp! Also like those apps, you can tell when someone's read your last message when seeing a small 'eye' icon appear on the right side of your message.  
This privacy is in stark contrast to a channel, which is open and available for all members to access and read any content and conversations posted within it, even if they're not directly involved. This is similar to a group page on Facebook or LinkedIn, only with many more benefits.  
2. History Options
Going hand in hand with privacy, group chats allow you to edit who can see your chat history. When adding a new member to a group which already has three or more members, you will be given the option to exclude them from seeing any messages/content on the chat prior to their arrival. Even better, when adding a new member to a one-on-one chat, the history will automatically be hidden from them. 
(Below: the option to exclude/include chat history for newly added members)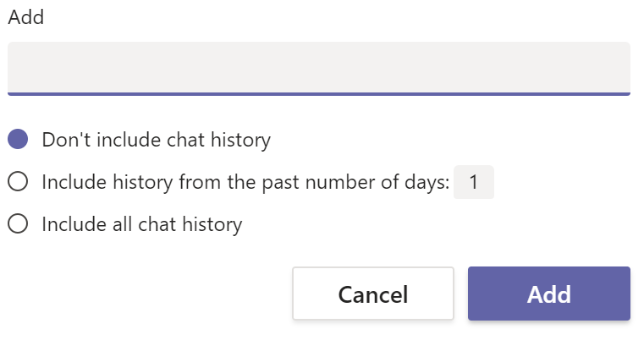 3. Notifications
Another automatic feature of group chats is receiving notifications for each message that comes through. This allows you to keep consistently in the loop of your private conversations. If you want some downtime or are simply getting a little tired of a conversation, you can mute a chat so notifications stop coming through, but it's important to note that the default setting is to receive notifications for each chat message.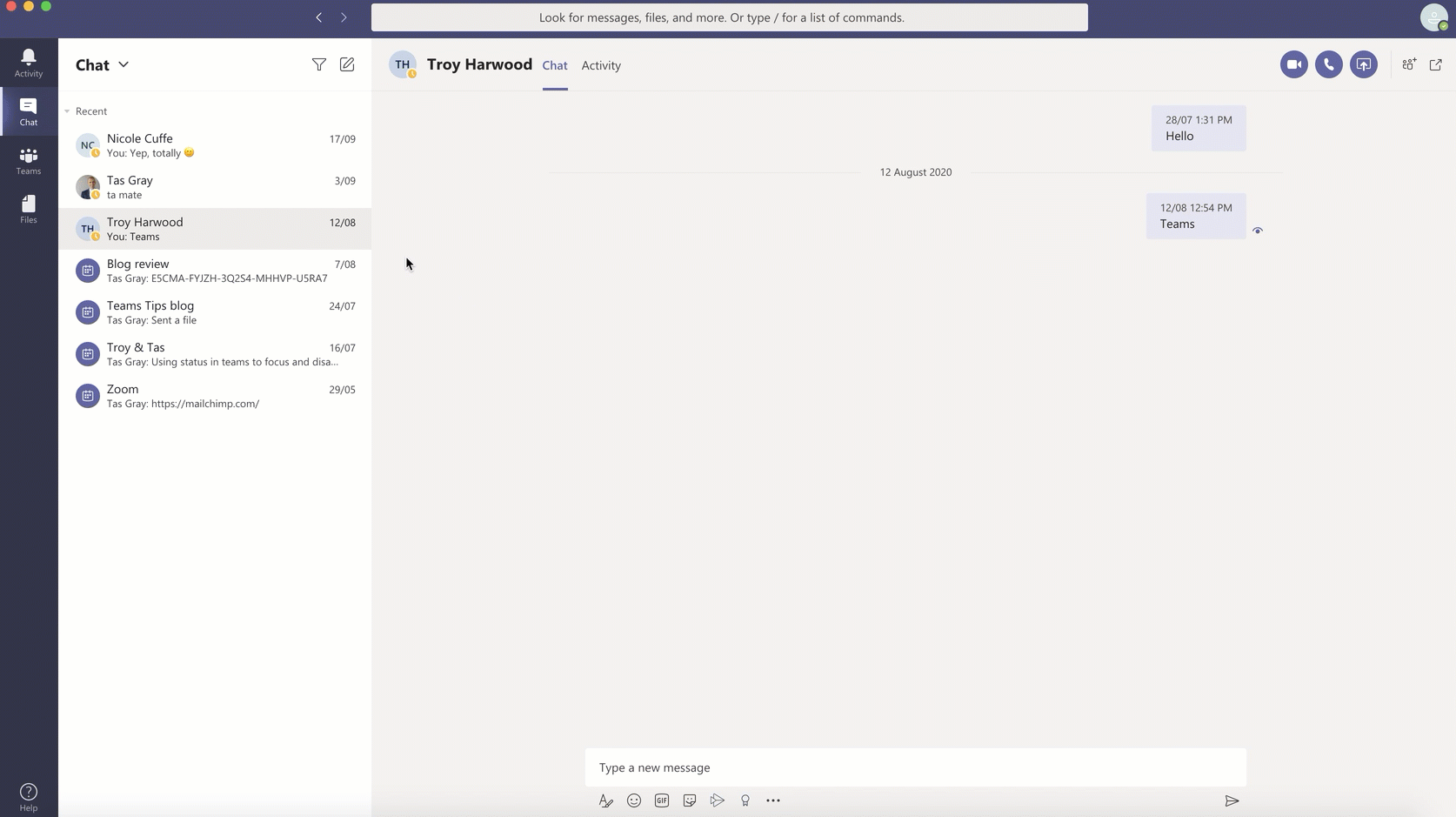 Another bonus feature to note is that messages can also be marked as important or urgent. When selecting the urgent option, as seen in the gif below, the recipient/s will be notified of the message every two minutes for twenty minutes in total. This is a super handy tool for anyone attempting to deliver top priority, vital information.

4. Pop-Out
Another helpful aspect of chats is the ability to pop them out into their own separate windows. You can resize, reposition, or close the window in whatever way you wish. This is perfect when on a call and needing to multitask, getting much more done at a far quicker rate, rather than having to click back and forth between pages. And while you can't open the same chat twice, you can open as many other conversations as you want!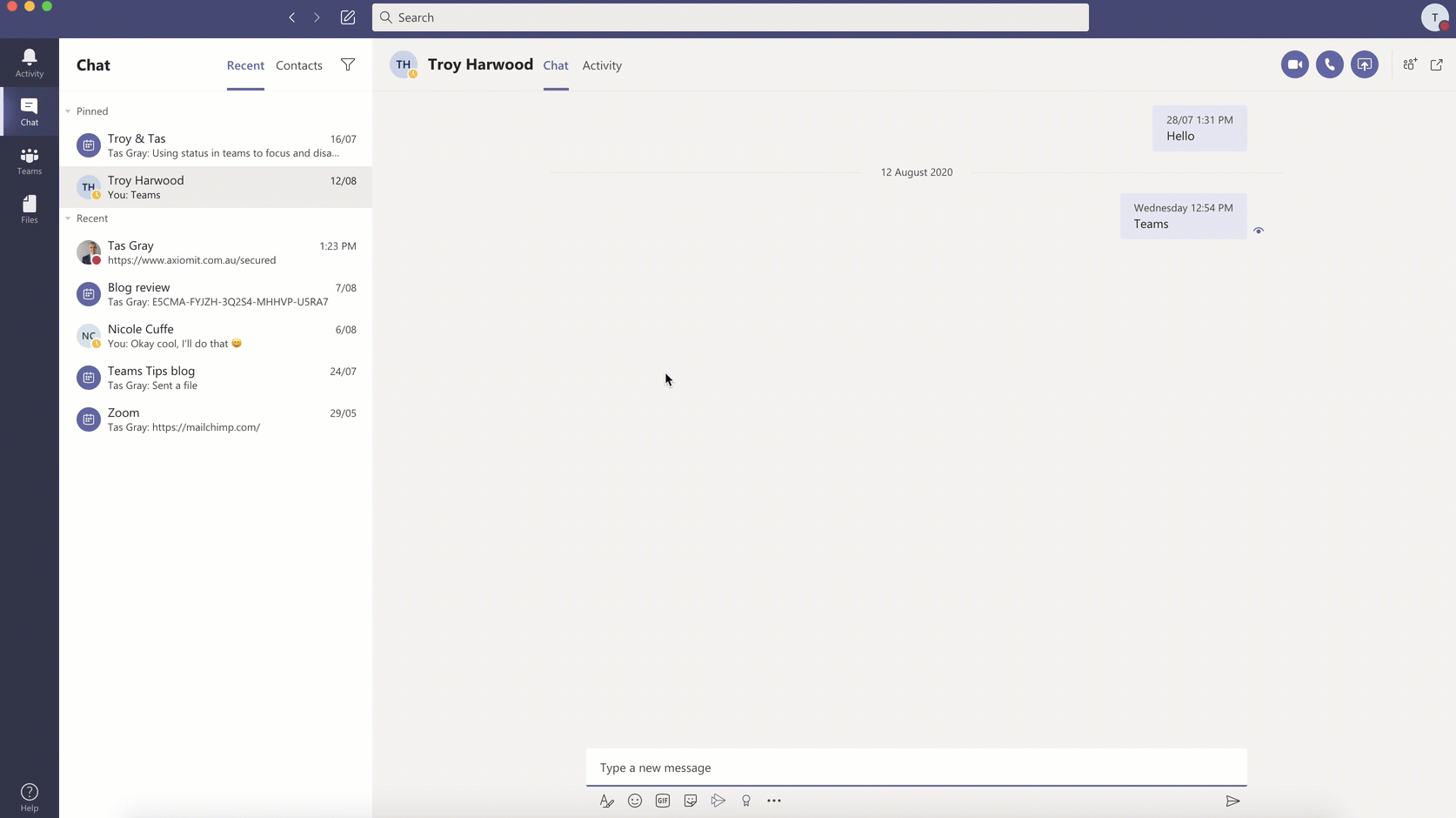 TEAMS CHANNEL
1. Public Collaboration
Teams Channels, sometimes referred to as Team Collaboration, are unsurprisingly a far more public form of communication. After all, it wouldn't be much of a 'team collaboration' if it wasn't. 
While users are not automatically notified of activity with a team, they still have the ability to see your conversations with others and view files that have been uploaded whenever they log in. When a new member joins the channel, they automatically see all the content history posted before their arrival. Picture it as cc'ing others in a string of emails – everyone with that email can see the total history of conversation.  
If you do wish to stay up to date with a particular team you are in, you can turn on notifications, as shown in the gif below!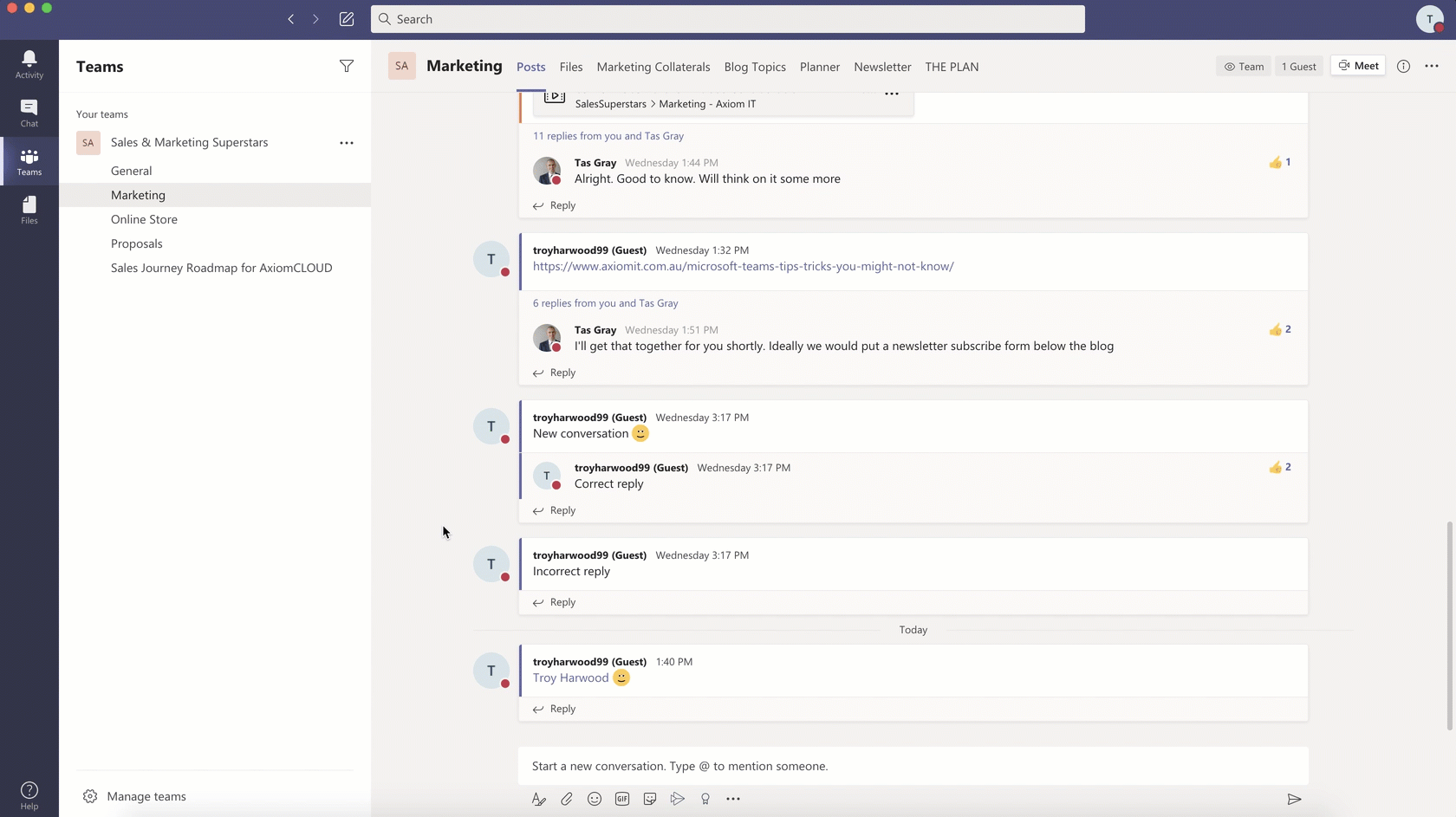 2. Tagging
A useful way to quickly garner the attention of specific co-workers in your team is to @ tag their name in the Start a new conversation bar down the bottom of the page. And while you can tag people in chat too, channels allow you to tag the channel itself in order to notify everyone at once (without having to tag each member individually). This way you can let everyone in the channel know you've posted a new important document or even that it's someone's birthday!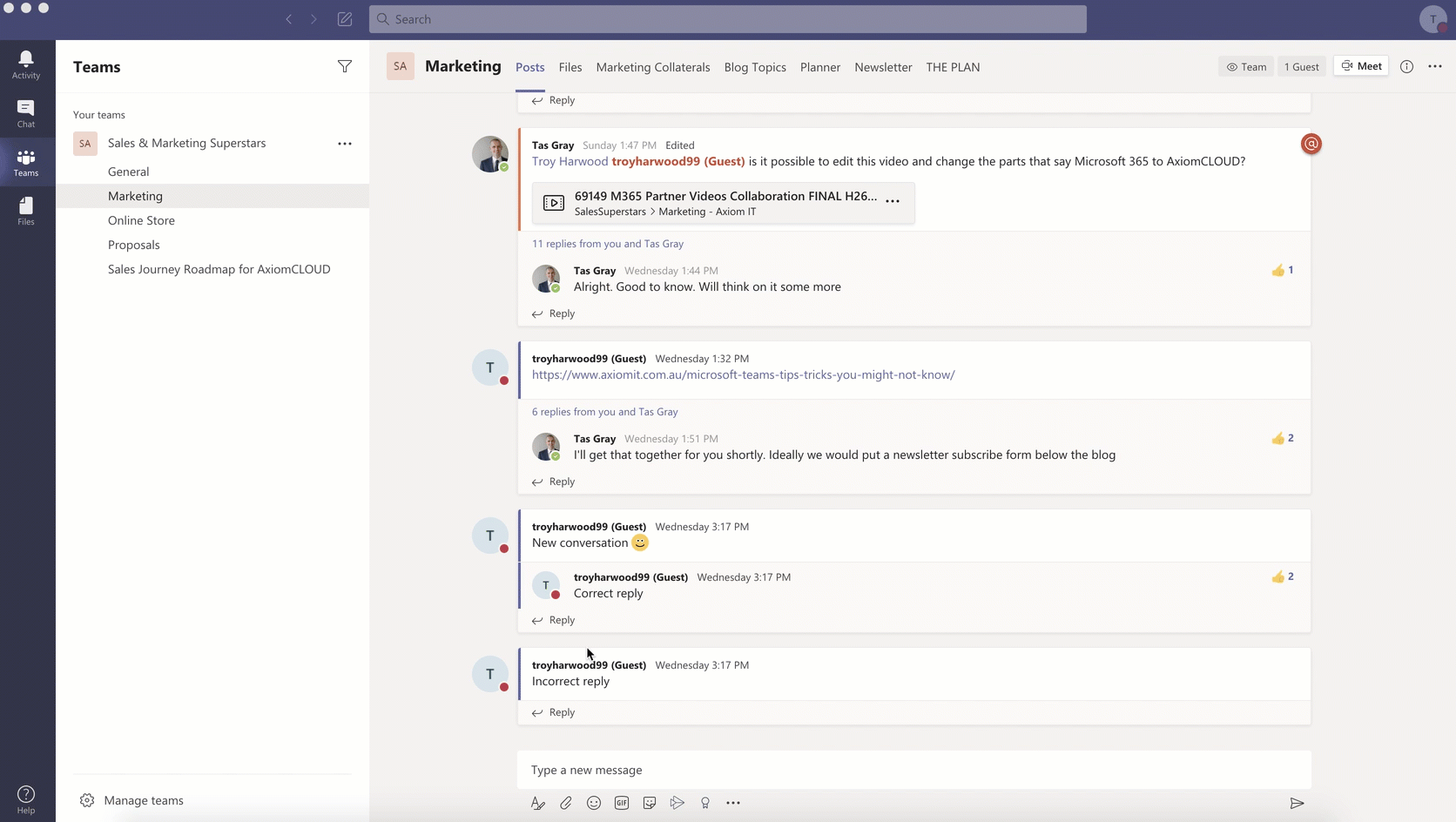 3. Group Privacy 
If you're a manager/admin of a particular team, then you may not know that you can also create private channels where only specific members of your choice have access. That way, you maintain both the privacy of a group chat, while maintaining all the benefits a Teams channel. 
4. Team Meeting
One of the most defining features of using a channel is its ability to hold meetings that any number of members can join. That way, for instance, if you wish to organise a weekly team meeting, you can set it up to appear every week at a set time. You can even tag members in the meeting's conversation to ensure they see/join the call.  
If you also wish to review the meeting or save it for someone who missed the call, you can record it so that it's permanently saved in your Team! Even better, the meeting is automatically transcribed and if there's anything that needs changing, you can edit the transcript yourself! 
As seen in the gif below, a small video icon will appear beside the channel name when the meeting is being held.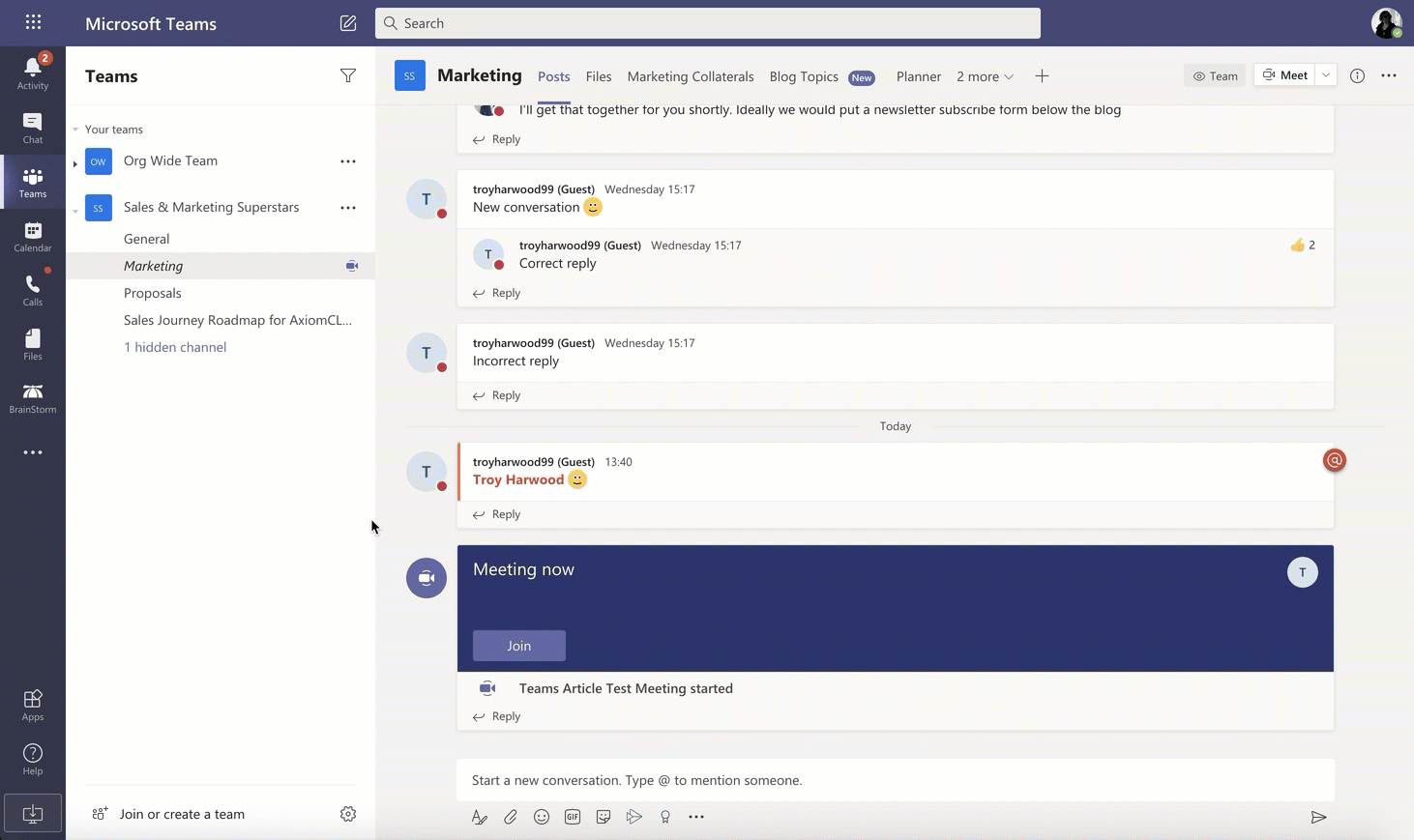 5. Forwarding Emails to Channels
Another worthwhile feature of channels is that they each have their own individual email address. This means that you can send and forward emails straight into a channel! Other members can then reply just as they usually would with an average post. However, if the email is too large to be seen in the channel conversation, users can always select the View Original Email option to see the message in its original format. 
This is a perfect way to move a cluttered conversation spread over multiple emails into the more organised system of channels.  
(Below: how to find and select a channel's email)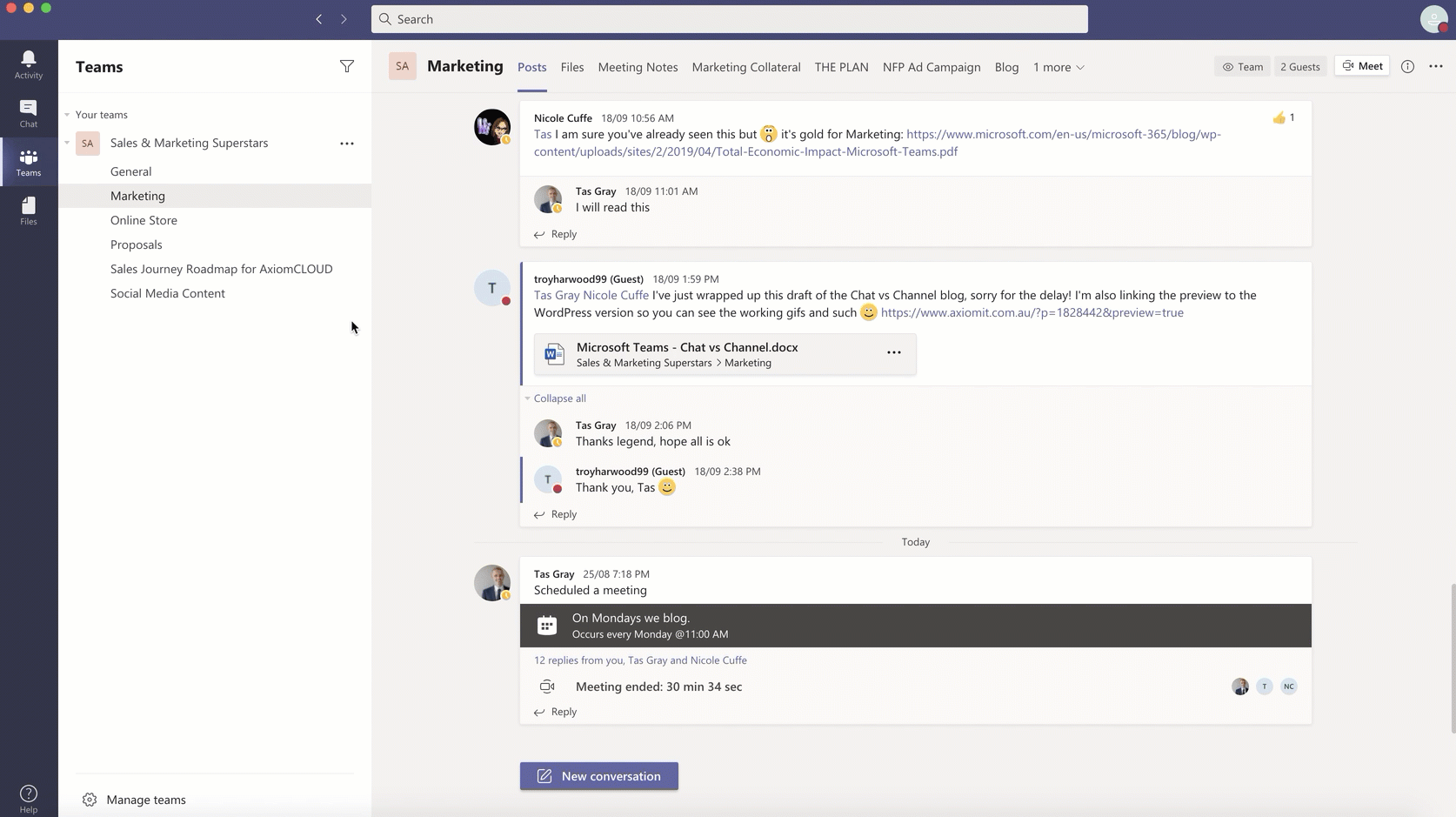 CHAT VS. CHANNEL
So, now that we've gone over some of the most defining attributes of both chat and channel, what do we choose? Well, this isn't really a matter of picking one and completely discarding the other. As shown, they both have their respective merits. Ultimately, it's more a matter of when to use one and not the other. 
The best way to see them is in terms of organisation.  
Using chat is much more akin to one-on-one Skype calls or SMS messages. Smaller things such as asking questions, quick checkups, and menial discussions are far better suited to this line of communication. It's also particularly easy for these messages to become disorganised and lost, so, it only makes sense to utilise it for less crucial data that won't matter for too long. After all, you wouldn't think of cc'ing all your coworkers just to ask one of them about lunch. 
Meanwhile, team channels are inherently a far greater way to collaborate on ongoing projects. Because of its openness to all members, it's the perfect place to post documents and hold important meetings that can be recorded and reviewed with ease. Messages that you would want to cc all your coworkers in on belong in a teams channel. Rather than being an endless stream of unsystematic messages, channels can be broken up into threads with different meetings, conversations and posts having their own dedicated section which can be replied to and expanded upon. This is perfect for maintaining a clear and orderly structure to your work which is easy to keep track of. It also allows coworkers to see how everyone is progressing and what they need to be doing regarding your business' most important tasks. 
LEARN MORE
If you want to learn more about using Microsoft Teams and organising your business' data, Axiom IT proudly assists all our clients in these areas. We love helping our customers make sure they're getting the most out of their technology. You can also find out where you're at with using Teams right now by taking our own fun and quick Teams quiz! For more information, call us at 1300 991 992 or email [email protected]. You can also visit our contact page for more information.